FIVE IMPORTANT STEPS IN CHOOSING THE RIGHT RAM PICKUP
Whether you're towing a small utility trailer or a full size farm tractor on a flat bed, RAM pickups offer class-leading features and capability to get the job done safely and effortlessly.
RAM pickups are offered in a wide selection of body styles, cargo bed sizes, powertrains, and vehicle weight classifications to meet the various driving and work needs of consumers.
#1 Determine what the pickup needs to do
The first step in choosing your Ram Pickup is to clearly define its intended use.
How many people will the truck need to carry?
Will the truck be used mostly for towing or carrying cargo?
Does the truck need to travel off-road?
Will the truck be used primarily for highway driving, city driving, or mountainous terrain?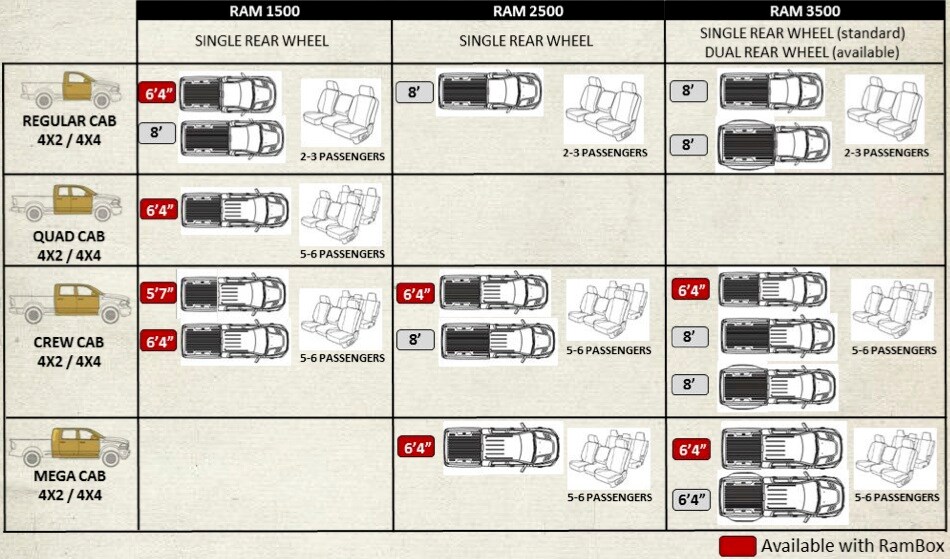 #2 Determine what everything weights
When choosing a pickup, it is essential to know how much capability you will need.
 What is the total weight of the fully loaded pickup, including the pickup itself, all passengers, payload, fluids, accessories, and tongue weight? ― Gross Vehicle Weight (GVW).
What is the total weight of the trailer plus all cargo in it? - Gross Trailer Weight (GTW).
What is the total combined weight of the fully loaded pickup, including the pickup itself, all passengers, 
payload, fluids, accessories and all that will be towed? ― Gross Combined Weight (GCW).

#3 Know the features that affect towing and payload
The Gross Combined Weight Rating (GCWR) of a pickup must never be exceeded. If you're planning to tow and haul at the same time, do not simply rely on the max payload and towing ratings as these will have an inverse effect on one another. As one weight increases the other weight must decrease in order to not exceed the allowable GCWR.
Note: When comparing pickups with the same powertrain, GVWR and GCWR, the one with the lighter curb weight will typically offer higher capability ratings. As you can see from the chart on the right, the Ram Regular Cab offers the highest payload and towing ratings of the three pickups.
RAM 3500 SLT 4X4 DRW WITH CUMMINS TURBO DIESEL

Capability

Regular Cab

Crew Cab

Mega Cab

Curb Weight - kg (lb)

3533 (7789)

3813 (8405)

3858 (8506)

Max Tow - kg (lb)

13,339 (29,540)

13576 (28,930)

13,073 (28,820)

Max Payload - kg (lb)

2817 (6210)

2680 (5750)

1946 (4290)

Max GVWR - kg (lb)

6350 (14,000)

6350 (14,000)

6350 (14,000)

Max GCWR - kg (lb)

17,010 (37,500)

17,010 (37,500)

17,010 (37,500)
#4 Select the powertrain that will best fit your needs.
Ram pickups offer a wide range of engines and transmissions and each one offers unique performance advantages. Typically, smaller displacement engines will offer you the best fuel economy while the larger engines will deliver the best towing and payload ratings.
#5 Select the best axle ratio for the job
The rear-axle ratio is an important part of the selection equation. In general, a higher number offers more towing capability while a lower number offers better fuel efficiency. Choose a ratio that will give you good towing power without sacrificing your non-towing performance. By determining how much weight you'll be towing and how often you'll be towing it, you'll be able to find a ratio that will maximize both power and fuel efficiency.